---
Den Flygande Bokrullen
The group started out as a duo in the University town Uppsala in the early nineties with the members Matti Pohjola and Gustav Johansson. Back then we had many different kinds of folk music on our repertoir. What really opened up our eyes for klezmer music was the tune Bobrikov (actually a version of the tune Khsidishe Nigun by Boibriker Kapelle) by the Swedish group Norrlåtar, and the album Metropolis by the Klezmorim. The record was found by Oskar in the record collection of the pohjola brothers' mother. The group became a quintet in 1994 when the founders' younger brothers, Oskar Pohjola and Carl Johansson (now Carl Lindecrantz), and a friend, Lars Ydgren joined. In 1999 the new bass player Arvid Petterson joined when Oskar left the group and moved to Gothenburg. Today Arvid plays piano and baritone horn in the group. The bass player since 2003 is Thomas Dawidowski.
The current line up is:
Carl Lindecrantz: drums & baritone horn
Arvid Pettersson: piano & baritone horn
Thomas Dawidowski: double bass & tuba
Gustav Johansson: accordion, baritone horn & trombone
Matti Pohjola: mandolin, banjo, cornet & baritone horn
Lars Ydgren: clarinet & alto sax
Since 1997, when the band had a gig at Copenhagen Jazz House, Denmark, DFB have been playing at several international festivals, for example in Vienna, Warsaw, Bremen, Lublin, Oslo, Zabkovice Slaskie, Kazimierz Dolny and Fürth as well as clubs (Berlin, Leipzig, Halle, Lodz etc) and pubs (the band of course does domestic gigs regularly). At the klezmer festival in Kazimierz Dolny (PL), DFB were chief workshop-instructors.
During the years Den Flygande Bokrullen have also appeared at different media as television, radio etc innumerable times, recorded three full lenght albums and one electronic-based ep, made a film about the group's origin, played in front of the king and queen as well as crown princess Victoria and been sampled by hip-hop groups. However, we have not left our basics as we still play at weddings and other parties. Today the six members of the group live in and outside of Uppsala and Stockholm.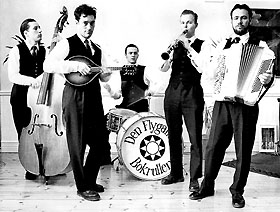 A photo from the time when Den Flygande Bokrullen still only was available in black and white. This was February 1998